Interview: Alex Ott, Master Mixologist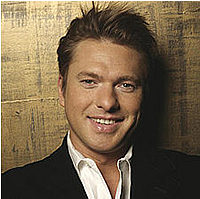 Master mixologist Alex Ott has traveled all over the world, learned from the best in the industry and created cocktail lists for revered restaurants and bars around the globe including Sushi Samba in New York, Miami and Chicago; Buddha Bar in New York and Paris.
We recently joined Alex at an Ecco Domani sponsored "winetails" event in Miami. Alex is a down-to-earth, witty and worldly guy who happens to also make a great drink!

RR: You've hooked up with Ecco Domani and created a menu of "winetails" for them -- tell me about the thinking there and what's gone into the process.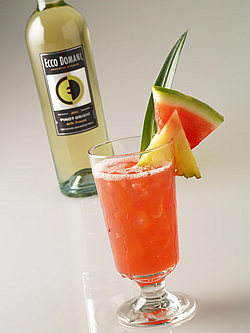 AO: When Ecco Domani approached me, I was very surprised that finally a wine company was pushing the envelope and consulting with me for wine cocktail creations. Within a few days , I was confident enough to present all my ideas and concoctions to them. Concoctions that nobody has ever tried before-spices, herbs, vegetables and fresh fruits and juices-were used to enhance and underline the characteristics of each Ecco Domani varietal: merlot, chianti, and pinot grigio. Each of the featured winetails work on perfect balance, just as any other cocktail (or should I say good cocktail, ha ha). Wine had to be the only alcoholic ingredient, since liquors and cordials would destroy the flavor and character of the wines. Glassware also played an important role. Why serve wine cocktails in only wine glasses? Garnishes were also a key factor. Wine is an ingredient just as worthy as gin or vodka...garnishes are a must! 50 % of a drink is on its rim. A beautiful and complementing garnish lifts the cocktail into a higher cloud, plus you need some eye candy to enjoy a good cocktail.
RR: Talk a bit about the time you've spent in Africa and your experience there -- and how it all differs from the US and Europe.
AO: Africa is my mother. It holds everything I adore-animals, nature, friendly people, and true friendships. I try to go back as much as I can. I also work with a lot of charities there such as CHARITY: water and HAVEN, building fresh water wells and working with orphans in Liberia. My next trip is in February 2008 with Nadia Bitar from HAVEN, a native Liberian who is working to rebuild and secure a safe future for this amazing country that has suffered way too long. Scott Harrison, of CHARITY: water is doing a great job as well, setting up fresh water wells and raising money throughout the world with his $20 water bottles. I am working with both of these great people and donate my cocktails for their fundraising parties. We have already done events with Terry George, director "Hotel Rwanda", Jennifer Connelly, Leonardo Dicaprio, Adrian Grenier, as well as many of the Victoria Secret angels. It was fun cutting garnishes in the shape of the African continent, creating muddy water cocktails etc. I moved to Kenya when I was 5 years old. The experience I took away from this country will always be in my thoughts and will help me to decide where I eventually want to settle down. In my opinion, you can't compare Africa to the US or to Europe. TIA-This is Africa-everything is different here. At some point in my career, I want to make a difference there. I want to try to turn as many people on to this amazing country to share, share, share...
RR: You were in Las Vegas for the last MTV VMA awards -- what's your take on celebrities and cocktails?
AO: Celebrities and cocktails? It is very hard because they are used to bottle service whereever they go. I wish they drank my cocktails on a more regular basis. That is why I work to introduce them to my creations at different events such as the VMA's. I am the guy that can teach them how to make amazing drinks and live healthy at the same time. I had the great pleasure to provide a lot of my specialty drinks to numerous celebrities, and they loved it. I just wish they knew where to find me...
RR: What does a master mixologist think about beer? Any brews of note for you?
AO: I love beer. I am a born German. You should try my beer cocktails, they will change your mind about this great brew as well. Want a suggestion, try to mix half light beer with half sprite or 7up and you will never have water again as a thirst quencher.
RR: If you could offer a couple of short pieces of advice to the average bartender, what would they be?
AO: Bartenders are a different race, All I can tell you is: Never talk about these 3 topics: Sports, Religion And Politics if you are planning on receiving tips from anyone!!!
RR: Surely you have some pet peeves about bartenders -- care to share?
AO: There are great bartenders out there doing their thing. Bartenders, do not create drink menus, leave it up to mixologists....you guys are the ones that bring our drinks to the consumers!!!
RR: As a mixologist/consultant, you work directly with many restaurants on their drink menus -- describe the parts of this process.
AO: Having over 18 years of expertise in this field, I usually request a food menu before I consult for a restaurant. Food pairing is just as important as the cocktail itself. Having a specialty drink with a dish is just as good as wine, sake, beer or champagne.
I look at key ingredients and incorporate them into my concoctions. You should have at least have 4 or 5 cocktails on your menu, including a dessert drink that you can pair with any dish on the menu. Having a great cucumber martini with your salad, or an arabesque (curry, clementine vodka, and pear juice) as an aperitif really makes a difference.
RR: You believe a lot in spices and flavors in your concoctions -- talk about the insights that let you pair these successfully in your drinks?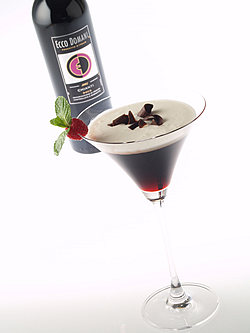 AO: It's all about the perfect balance of acidity, sweetness, and flavor combinations. I am very fond of spices and fruits and their juices, mostly 3 flavor combinations. Cucumber, vanilla, citrus, or ginger, mango, tonic, or curry, clementine, pear, or sage, pear, and lemon to name a few. I could go on and on and on. They work with all kinds of spirits: vodka, gin, tequila, shochu, awamori, sake, rum, cognacs, cachacas, Wine etc. Having tasted everything that crawls and grows on this wonderful planet, I know what is mixable. Food and drinks are very similar in that way, at least they end up in the same place, right?
It's all about the mood as well. Different ingredients have different effects on the body. I try to weave moods into drinks. Not too long ago I did a workshop on dessert winetail called ECCO CIOCCOLATO. It consists of puréed raspberries, chocolate, and Chianti. It then gets a layer of freshly made whipped cream on top and is served with a side dish filled with self made cocktail chocolate raspberry caviar and a marshmallow. I then create hickory smoke in a squeezer bottle to spray into everyone's face to transport them to a virtual campfire. While you are enjoying the dessert, you feel like you are sitting next to Jack Johnson having smores by the fire in Tahiti or San Diego...